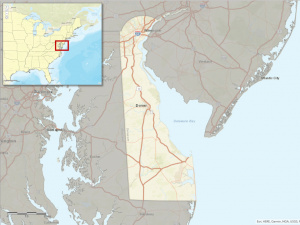 The State of Delaware lies along the Atlantic coast of the United States, occupying the northern two-thirds of the Delmarva Peninsula. It is the second smallest of the United States with a land area of 1,982 mi². It is surrounded by water bodies including the Atlantic Ocean and Delaware Bay to the east, and Chesapeake Bay to the west.
The State is situated in a transition zone between humid subtropical climate conditions to the south and humid continental conditions to the north. The moderating effects of the surrounding water bodies lessen temperature extremes compared to nearby interior locations. Even so, the State has a continental climate, with cold winter temperatures, hot summers and ample precipitation throughout the year. However, annual precipitation amounts can vary greatly from one year to another.
Temperatures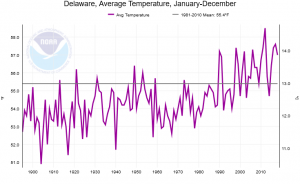 Mean annual temperatures across the State range from 54.0 ° F in northern New Castle County to 58.1 ° F along the Atlantic coast of southern Delaware. Average annual precipitation is approximately 45" statewide.
Precipitation and Storms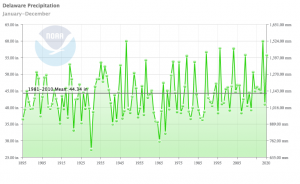 Mean annual precipitation for Delaware is about 45 inches with large inter-annual variability.
The State is often affected by seasonally occurring severe weather including winter and spring nor-easters that can drop heavy snow and cause coastal flooding, autumn tropical systems with high winds, coastal flooding and heavy rainfall and spring and summer severe thunderstorms.
Browse and download the Delaware 1981-2010 Climate Normals here.
All-Time Climate Extremes for DE
Variable
Value
Location
Date
Station ID
Status
Rainfall
24-hr Precipitation
12.48 in.
Harbeson
September 28-29,2016
DWAR*
NSA
Snowfall
24-hr Snow Fall
25.0 in.
Dover
February 19, 1979
072730
E
Monthly Snowfall
46.9 in.
Bear 2 SW
February 1-28, 2010
071200
NSA
Seasonal Snowfall
72.7 in.
Bear 2 SW
July 1, 2009 – June30, 2010
071200
NSA
Snow Depth
28 in.
Greenwood 2.9 SE
Feb 7, 2010
CoCoRaHS DE-SS-7
NSA
Temperature
Maximum Temperature
110 °F
Millsboro
July 21, 1930
076020
E
Minimum Temperature
-17 °F
Millsboro
January 17, 1893
076020
E
Credit: NOAA Climate Services and Monitoring Division. For more information, please visit https://www.ncdc.noaa.gov/extremes/scec/records/de.
* This measurement was recorded at DEOS Mesonet Station DWAR (NWSLI WARD1)
E – Value is unchanged from previous extremes tables last updated by NCDC between 1998 and 2006. Value exceeds all other valid values.
N – Value is changed from extremes tables last updated by NCDC between 1998 and 2006. Value exceeds all other valid values.
S – Value has been officially reviewed by a State Climate Extremes Committee.
A – Additional information is available. Official value may be exceeded by a widely accepted unofficial value that is not supported by a direct, calibrated observation (e.g., estimates, uncalibrated instruments, anecdotal reports).
1 – Value ties values from earlier dates.