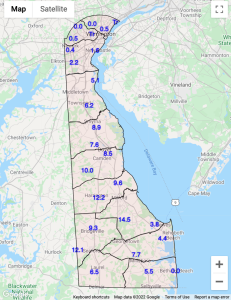 The new year brought Delaware its first significant snowfall event of the winter season.  2022 began with unusually warm temperatures culminating with highs reaching to 70°F at some locations on Sunday, January 2.  A strong cold front moved through the State late on the 2nd, and ushered in much colder air, with temperatures dropping more than 30°F in many areas.  A low-pressure center formed along the cold front in the Southeast United States and moved rapidly into the Mid-Atlantic on January 3rd.  Snow began across Delaware in the early morning hours and continued through the late afternoon. 
Snowfall amounts varied greatly across the State.  Ellendale recorded the highest total with 14.5" with three other DEOS stations reporting snowfall of over 10" including Harrington (12.2"), Seaford (12.1") and Woodside (10.0") (Figure 1).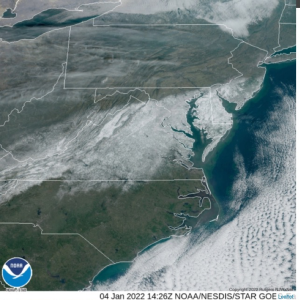 Snowfall amounts decreased rapidly to the north, with extreme northern Delaware seeing only flurries for the event.  The areas where the heaviest snow fell matched their average seasonal total in just one storm. 
The swath of snow running southwest to northeast through the Mid-Atlantic is evident on the January 4th visible satellite image (Figure 2).
Similar Posts
No items found
Custom Search